Operations
·
Stockholm
·
Hybrid Remote
Talent Acquisition Specialist
För att säkerställa fortsatt tillväxt både inom och utanför Sveriges gränser söker vi efter en Talent Acquisition Specialist till vårt växande Talent Acquisition-team!
Om oss:
På Billogram vill vi revolutionera en bortglömd men stor del av betalindustrin – den återkommande fakturan. För företag vars kunder betalar återkommande eller abonnerar, blir sättet man tar betalt på avgörande för både affären och för relationen till kunderna. Genom att ersätta en föråldrad pappersfaktura med ett digitalt och interaktivt format erbjuder Billogram intelligentare fakturering som gynnar både företag och deras kunder.
Just nu står vi inför en spännande internationell expansion där vi under de kommande månaderna ska lansera vår lösning i flera europeiska länder. För att säkerställa fortsatt tillväxt både inom och utanför Sveriges gränser söker vi därför efter en Talent Acquisition Specialist som kommer att spela en central roll i att bygga och skala upp Billogram för framtiden.
Om rollen:
I rollen som Talent Acquisition Specialist på Billogram är din huvudsakliga arbetsuppgift att säkerställa kandidatinflöde i våra mest kritiska rekryteringsprocesser inom ett brett spann av affärsområden. Detta sker genom proaktivt arbete på Linkedin och via andra kanaler, men du hanterar även inkommande ansökningar och referrals från organisationen. Du arbetar i nära samarbete med övriga personer i Talent Acquisition-teamet och säkerställer att ni tillsammans levererar på uppsatta tillväxtmål. Som Talent Acquisition Specialist kommer du också vara Super User i vårt rekryteringssystem, Teamtailor. Ditt uppdrag är att säkerställa att systemet stödjer våra rekryteringsprocesser på bästa möjliga sätt. Dessutom kommer du ges spännande möjligheter att tänka utanför boxen och att arbeta kreativt med olika sidoprojekt inom t.ex. Employer Branding, Inbound Recruiting och Onboarding. 

På Billogram är användarupplevelsen i fokus - som Talent Acquisition Specialist hos oss är din användare kandidaten och all interaktion med Billogram är deras upplevelse. Oavsett vad en process landar i, ska kandidaterna känna att de har blivit väl bemötta och att Billogram gjort ett minnesvärt intryck.
Vi önskar att du:
Som person känner du ett stort naturligt ansvar och ägandeskap för ditt arbete, du trivs med att arbeta resultatinriktat och strävar efter att nå uppsatta mål även om utmaningar uppstår längst vägen. Eftersom du kommer att ha en central roll i bolaget med många kontaktytor både internt och externt är du duktig på att bygga starka relationer. Du är också en teamplayer som trivs med att jobba tillsammans med andra för att hitta nya vägar att lösa arbetsuppgifter och komma i mål med projekt. Utöver det trivs du i en föränderlig miljö och ser nya möjligheter när förutsättningarna förändras.
Kvalifikationer:
Kandidatexamen inom personalvetenskap, företagsekonomi eller likvärdigt.
Något års erfarenhet av rekryteringsarbete
Flytande svenska och engelska i såväl tal som skrift.
Bonus om du även har:
Erfarenhet av uppsökande rekrytering.
Erfarenhet av tech-rekrytering.
Erfarenhet av Teamtailors rekryteringsverktyg.
Vårt erbjudande:
Tillsammans med oss kommer du att vara med på en spännande förändringsresa och du blir en viktig del i den totala expansionen och tillväxten av Billogram! Vi är en platt organisation där du ges möjlighet att växa i din roll och utvecklas tillsammans med fantastiska kollegor. Hos oss kommer du aldrig att sakna utmaningar, omväxling och inte minst; att ha kul!
Billogram är en arbetsgivare som tillämpar principen om lika möjligheter och tar avstånd från alla former av diskriminering. Det innebär att alla kvalificerade ansökningar kommer att behandlas lika oavsett kön, transgenderidentitet, etnicitet, religion eller annan övertygelse, funktionsnedsättning, sexuell läggning eller ålder.
Welcome to the world of Billogram!

Team

Role

Talent Acquisition

Locations

Remote status

Hybrid Remote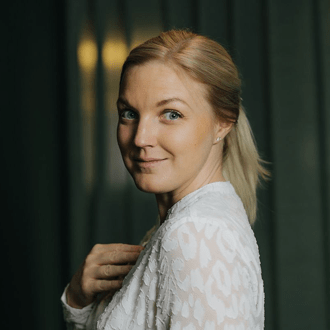 Contact
Josefine
Chief HR Officer – Operations
Perks
Be a boss

Here you get to rule like a dictator or a sympathetic saint, either way you are your own CEO and with that comes things like flexibility, responsibility and other words ending with 'bility'. And running your own show is a good thing, because everyone gets to see how great you are.

Get bossed around

Even though everyone here is a boss, we all listen to each other and work closely together. Together we take small steps forward every day. And by sharing thoughts and ideas with each other, we evolve and learn to become 'mega-bosses'. Like cool Transformer robots, we too are stronger together.

Change the world

We've taken something that's been neglected and boring for 5000 years and made it valuable and useful. Even better for you, as our product keeps changing, you can be the next to reinvent it. Just wait for that genius idea to come to you in the bathroom.

Join a journey

Our company grows faster than the waistline of a man from Texas. The lame metaphor aside, Billogram is really changing rapidly and it's a great journey to be a part of. So, join us and make your mark on the world of invoicing, like the moonwalking Michael Jackson made his mark on the world of dancing backwards.
Culture
In our office, one can find an ever growing group of slightly rebellious and self-proclaimed geniuses. A recent culture study found that employees at Billogram are in fact the best in the world. These statistics came straight from a highly reliable slack poll survey, performed internally at five-thirty on a Friday pay-day.
Apart from being the best in the world, we're a pretty humble and casual bunch. Working here you can enjoy the benefits of having a flat organization where two conference rooms are dedicated to table tennis and billiard. Someone who's clearly related to Einstein even named them the Arcade and the Ping Pong Room.
About Billogram
Billogram was born from a desire to renew the outdated billing process and replace traditional PDF and paper invoices with something digital and interactive. Today, we offer our clients a digital platform for billing and payments, which streamlines customer management while improving the customer experience. Using smart technology, we help companies automate processes leading to lower costs, increased revenue and reduced churn. The result is a payment that pays off for both customers and suppliers.
Operations
·
Stockholm
·
Hybrid Remote
Talent Acquisition Specialist
För att säkerställa fortsatt tillväxt både inom och utanför Sveriges gränser söker vi efter en Talent Acquisition Specialist till vårt växande Talent Acquisition-team!
Loading application form
Already working at Billogram?
Let's recruit together and find your next colleague.