Marketing
·
Stockholm
·
Hybrid Remote
Demand Generation Manager – A Finger in Every Pie
Receiving your monthly bills is rarely worth celebrating, although some invoices are so puzzling that decoding them should earn you a reward. At Billogram, we are cooking up a new recipe for how monthly bills should be served and settled. By making the invoice and payment process as easy as pie for you and those invoicing you – both parties benefit. You're more likely to stay loyal, and they get paid faster.

Like any good recipe, we evolve our company and the Billogram product, finding new ways to improve – ultimately bringing our clients and their customers closer together. This way of working requires us to stay hungry for change and humbly receive feedback from clients and their customers while happily accepting that our work never will be done. There's no set recipe for success in ever-changing times.
There have been some pie mentions, and you might be getting hungry, but as a Demand Generation Manager at Billogram, your fingers will be in many of them. You will work in the commercial team as a bridge between sales and your marketing team - translating the insights and needs of our potential customers into tasteful marketing efforts.
You will own your verticals and help shape the strategy, problem solve and develop creative campaign ideas – with support from marketing and sales. This role also requires you to work with other internal and external stakeholders as you take projects and campaigns from ideas to execution. It's a much more diverse, challenging, and broad role than baking pie, but to you, it will be a piece of cake.
Primary Responsibilities:
Own and shape the marketing plan and campaigns for specific verticals, including strategy, budget, implementation, and execution of marketing activities. All to increase sales, brand awareness, and revenue.
Move leads down the funnel through a strategic and prescriptive demand generation strategy by segment and persona. This includes inbound lead acquisition and outbound account-based marketing strategy.
Strategize, own, and execute demand-generating activities, such as engagement campaigns, advertising, webinars, sales enablement, direct mail campaigns, events, social media, and more.
Work with Marketing Automation Manager and Sales Ops to monitor and track the health of marketing contribution to the sales pipeline and conversion.
Work closely with the sales on strategy, sales plays, and campaigns to assist in moving leads down our marketing funnel and help meet vertical revenue targets.
Assist in maintaining sales and marketing data integrity.
Who you are:
A dedicated self-starter, relentlessly pursuing goals even amid challenges. Your collaborative personality thrives as you engage with others, respecting viewpoints while expressing your own.
A master of organization, managing workloads while flexibly adapting plans where the need arises. Your keen eye spots industry trends, unearthing potential and seizing opportunities. Versatility defines you, bridging strategic vision and hands-on execution.
Your determination, teamwork skills, adaptability, and inventiveness will drive your success in this role.
Skills & qualifications:
4+ years of B2B marketing project management experience, preferably from an international environment
Experience in owning and creating marketing plans and budget, including campaign planning and ideation 
Good understanding of SaaS B2B and B2B2C marketing 
Strong ability to analyze data, target, and optimize marketing campaigns 
Excellent problem-solving, communication, and cross-functional collaboration skills 
A good understanding of modern digital marketing channels and MarTech software, such as Salesforce and JIRA. 
Fluent in written and spoken Swedish and English (other languages are a plus) 
Event management experience is a plus, as well as CMS/website management
What we offer:
We could bake you a pie, but more importantly, we offer the chance to be part of our journey of changing the payment industry. We work with our clients to improve the relationship between them and their customers, making sure as few people as possible are sent to debt collection.
That aside, you will get lots of freedom and opportunity to work and develop with great colleagues at our office in the heart of Stockholm. We also offer hybrid work, flexible working hours, exciting challenges, and fun activities.
Other beneficial things:
A clear development path for you to progress within the organization and reach your long-term goals together with us
We are a fast-growing company, launching more and more markets
30 (+2) days of holiday annually
Occupational pension
Wellness allowance & flexible benefit allowance
Sick leave top-up
Parental leave compensation
You will get fancy words like "fintech", "SaaS" and "scaleup" on your CV
We look forward to receiving your application, and if you have any questions, or want to know more about us, don't hesitate to get in touch!
At Billogram, we provide equal opportunities and strive for an inclusive and diverse environment. All applicants will be considered for employment without attention to gender, transgender identity or expression, ethnicity, religion or other beliefs, disability, sexual orientation, or age.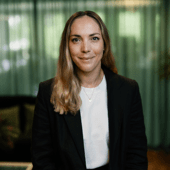 Contact
Cecilia
Talent Acquisition Partner – Operations
Perks
Be a boss

Here you get to rule like a dictator or a sympathetic saint, either way you are your own CEO and with that comes things like flexibility, responsibility and other words ending with 'bility'. And running your own show is a good thing, because everyone gets to see how great you are.

Get bossed around

Even though everyone here is a boss, we all listen to each other and work closely together. Together we take small steps forward every day. And by sharing thoughts and ideas with each other, we evolve and learn to become 'mega-bosses'. Like cool Transformer robots, we too are stronger together.

Change the world

We've taken something that's been neglected and boring for 5000 years and made it valuable and useful. Even better for you, as our product keeps changing, you can be the next to reinvent it. Just wait for that genius idea to come to you in the bathroom.

Join a journey

Our company grows faster than the waistline of a man from Texas. The lame metaphor aside, Billogram is really changing rapidly and it's a great journey to be a part of. So, join us and make your mark on the world of invoicing, like the moonwalking Michael Jackson made his mark on the world of dancing backwards.
Culture
In our office, one can find an ever growing group of slightly rebellious and self-proclaimed geniuses. A recent culture study found that employees at Billogram are in fact the best in the world. These statistics came straight from a highly reliable slack poll survey, performed internally at five-thirty on a Friday pay-day.
Apart from being the best in the world, we're a pretty humble and casual bunch. Working here you can enjoy the benefits of having a flat organization where two conference rooms are dedicated to table tennis and billiard. Someone who's clearly related to Einstein even named them the Arcade and the Ping Pong Room.
About Billogram
Billogram was born from a desire to renew the outdated billing process and replace traditional PDF and paper invoices with something digital and interactive. Today, we offer our clients a digital platform for billing and payments, which streamlines customer management while improving the customer experience. Using smart technology, we help companies automate processes leading to lower costs, increased revenue and reduced churn. The result is a payment that pays off for both customers and suppliers.
Marketing
·
Stockholm
·
Hybrid Remote
Demand Generation Manager – A Finger in Every Pie
Loading application form
Already working at Billogram?
Let's recruit together and find your next colleague.